Your documents must be signed and dated for them to be legally binding. The process of dating and signing your documents is called executing your documents. Many of the documents in your estate plan require your signature to be notarized. A few, like your Will, require your signature to be witnessed. To make this process as clear and efficient as possible, we generate a "signature page" for each document. These pages indicate whether a notary or witness is required.
Once the Estate Plan has been completed, you will receive an estate planning binder with your legal documents and additional guides. The signature pages for all of your legal documents in the left hand pocket of your binder.
It is imperative that you keep the original executed signature pages in a secure place that you can easily access.
You will notice that each of your signature pages has a unique footer and QR code that matches the version of the documents you have created on the online platform. It is important that you sign the signature page that matches the most recent version of the documents you have created online.
To fully execute the Estate Plan, follow the steps below:
Sign and notarize the signature pages according to the instructions on each document
Scan and upload the signature pages by logging into the platform, selecting the Document Options icon. It will prompt you to Upload Signature Pages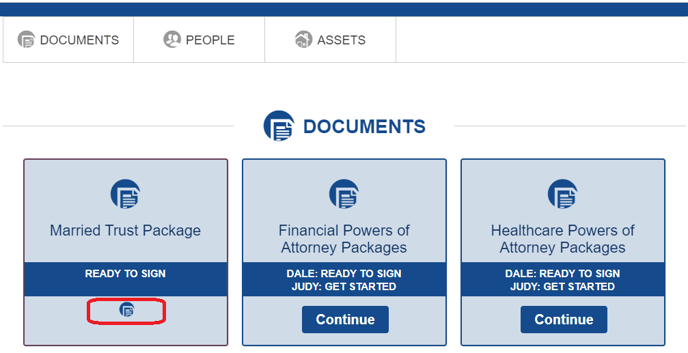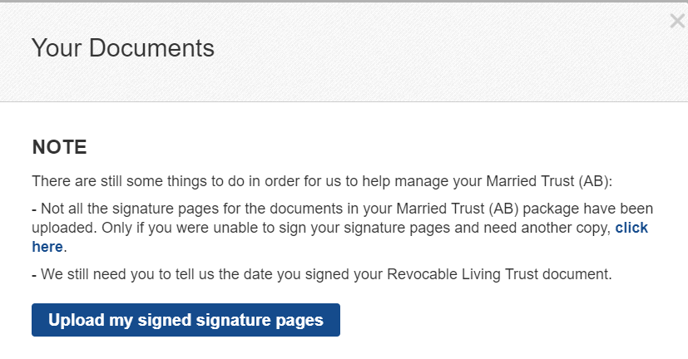 An alternative option is to email signature pages to: docs@epnavigator.com

If scanning and emailing is not possible, send copies of the signature pages to:
Estate Plan Support
560 S 100 W, Suite 1
Provo, UT 84601